Finally, there's an easy solution for getting rid of a hot tub! We provide affordable, full-service San Ramon hot tub removal.
Eco-Friendly Hot Tub Removal in San Ramon
Do you have an old or damaged jacuzzi that's become a problem to upkeep? It might be time to replace it! Getting rid of a hot tub yourself, though, can be a headache, requiring certain equipment and taking up lots of time. Luckily, you can count on Left Coast Hauling to take care of it for you. As experts in hot tub removal in San Ramon, we have the right tools to break down hot tubs of all kinds safely and promptly. 
With us, you can rest assured that your hot tub debris will be disposed of properly. Rather than leaving the debris at just any dump, we'll recycle all the waste we can so that the materials can be repurposed. After all, we make it a top priority to recycle and donate everything we can!
With many years of experience in hauling, demolition, and disposal, we believe we're best fit for your hot tub removal in San Ramon. In fact, we specialize in many other services that are designed to fit both residential and commercial needs! So, whether you own a business or home in San Ramon, we can help with all your junk removal needs. Thanks to our open availability and dedicated team, we can even get to your spa removal or other service the same day, so call us today!
Throughout our time in the business, we've seen residents like you get overcharged for hot tub removal in San Ramon time and time again. That's because many people book franchises that increase the cost with corporate fees. Instead, chose Left Coast Hauling for affodable pricing with your best interests in mind!
Volume-Based. All our services are charged based on how much junk you need removed– that"s it!
Honest Quotes. Before clearing the job, we'll present you with a free quote, accounting for the total cost.
No Surprises. As a local company, we'll save you from those awful, unexpected add-on fees!
Ready to schedule an appointment? You can easily book our crew online or by calling

(925) 402-4663!

Once we receive your inquiry, we'll follow up to discuss the job and give you a free estimate.
Our team will leave at the appropriate time to arrive early! Don't worry, they'll call you to let you know they're on the way.
Upon arrival, our haulers will quickly decide your quote rate, based on the size of the job.
Finally, approve the quote so that we can begin the job! Then, you can kick back while we handle the rest. 
How Wooden Hot Tub Removal Works
You may be wondering, "how in the world would hot tub removal in San Ramon go down?" Well, with our hard-working team and approved equipment, it's surprisingly quite simple! The best part is, you can relax or watch if you'd like while we finish the job. First things first, we'll disconnect the power and drain the hot tub. From there, we can move on to breaking down the spa into smaller pieces! Starting with the wood paneling, we'll remove pieces by section. Once that's done, we cut out all the electrical wiring, motors, and pipes and set them aside. Finally, we'll saw any large pieces down so that they can be recycled and load everything onto trucks! Before leaving, we'll give your porch a quick sweep to make sure we got everything. 
Now comes the time to dispose of everything. We'll locate a recycling center near you so that the majority of your broken-down hot tub can be reused! Made up of electrical, wooden, and metal components, hot tubs are in fact, recyclable. Upon arriving to a recycling center, we'll make sure the different materials are separated and placed in the appropriate location. Then, the reprocessing and recycling of the debris are in the hands of facility workers. 
Left Coast Hauling is your local solution to all your junk removal needs! Based in Dublin, our company is entirely locally-owned with a team committed to its community. Since 2013, we've been providing various junk removal services and delivering world-class service everytime. Whether you need junk removed in your home, business, warehouse, or even storage unit, we're the one to call. We cover many areas in the Tri-Valley area, including your neighborhood!
Unlike other larger companies, our team is dedicated to making a difference in the community. With families in the area, we strive to better the environment while serving the community, and we do just that by recycling and donating everything that we can. We partner with local charitable donation centers and recycling facilities to ensure everything we receive is properly disposed of. After all, it's our job to make sure your junk is disposed of responsibly and safely.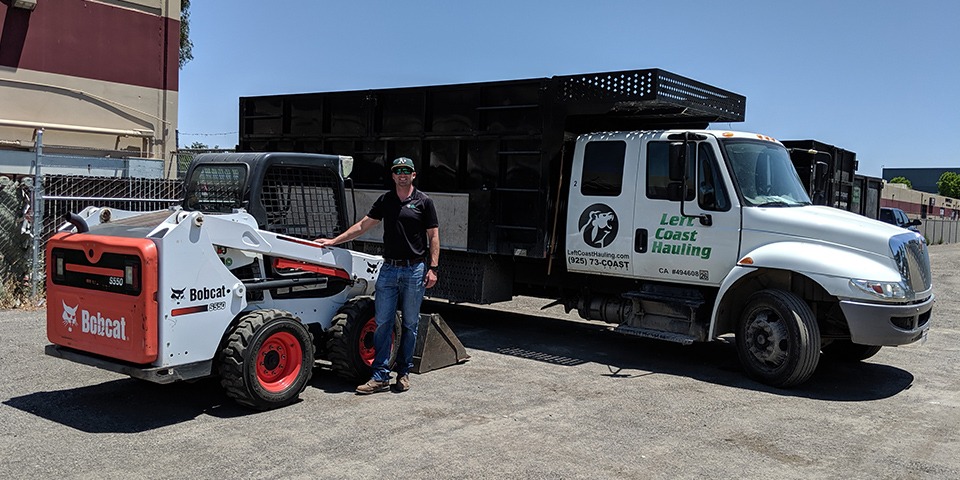 Kyle A.
Needed a hauling service quick as I was doing a little demo work and didn't have a truck to use to get to the dump. Left coast was quick to respond, super helpful, good pricing and just a great overall experience. Highly recommended!
Kylie F.
Nick and his crew were FABULOUS to work with! They went above and beyond what we requested that they do and we could not be more pleased with the experience from start to finish! Their communication was great, they under promised and over delivered, and the huge project was taken care of in a friendly, professional manner that made us feel so much better about the big job! We cannot thank Nick and his crew enough for everything and could not recommend them more highly!
Matthew C.
Fast, efficient, clean, trustworthy, and professional. What more can you ask for? This is the ONLY company you should be using for your haul-off, demo, and cleanup.

Mijung H.
Very quick response after we contacted the business and we were able to get an estimate. They offered a very reasonable price. Ishmael and his crew did a great job. Helped clean out our junk very quickly. Even with the heat and the large amount of stuff we had, they did an amazing job!
James H.
I had left coast hauling recommended to me to remove a model railroad constructed in 1 bay of my garage. They completely and successfully removed the structure and disposed of many items stored for too long. They worked as efficiently as can possibly be expected and completed the task by mid after noon. Many thanks to two very hard working young men.